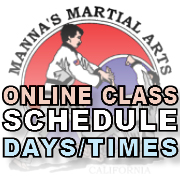 Voice: 858.487.6470
Email: Online@manna.us
Online classes are now available to your friends and family worldwide. They may even be able to train with you.
Share this precious lifetime gift with someone you love. Either sign them up as a gift or invite them to join at www.manna.us/online/


If taking class at the San Diego, CA Studio
Each participant must have a current enrollment packet on file at Manna's. If you are not an active member of Manna's please complete the form 4 pages below (this will take 10 to 15 minutes).

All forms are required:

Please complete the Enrollment Application 4 Page which includes: Enrollment, Release, Consent and Covid-19 Release. All forms are required to participate.
Download and place into Adobe Acrobat DC (free download), then select Fill & Sign from the tools. Save as read only copy or if offered option; Select to Fill, Sign and Send.
Send file copy to office@manna.us You may elect to print and bring to Try It Class or fax to Manna's at
(858) 673-4137
Martial Arts, Karate, Jiu Jitsu, Aikido, Kung Fu, Brazilian Jiu Jitsu, Taekwondo , Tang Soo Do, Hapkido, Mixed Martial Arts, Kick Boxing, Cardio Kickboxing, Fitness Kick Boxing, Ultimate Fighting , Muay Thai, Filipino Martial Arts , Thai Kick Boxing, Cage Fighting , Manna, Escrima , Children Karate , Childrens Martial Arts, Tangsoodo
Copyright © 2021 Manna's Martial Arts