Thank you for being a part
of the Manna's Family, we are holding live classes online at your home.
Each participant to Sports Camp Day must have a current Release and Consent To Treat form on file at Manna's Martial Arts.
All forms are required: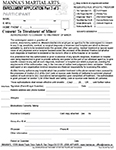 Release Consent
Print, complete: bring to event, email to office@manna.us, or fax to Manna's at
(858) 673-4137
Invite your friends to come and join in.