Each participant must have a current Release, Consent To Treat and Covid-19 Release form on file at Manna's Martial Arts. If you are not an active member of Manna's you are required to complete all of the forms below.

All forms are required: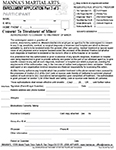 Release Consent
Print, complete: bring to event, email to office@manna.us, or fax to Manna's at
(858) 673-4137
These forms are available to fill out and complete at Manna's.