Order your Black Belt uniform today
Custom uniforms with Manna's School Logo
Thank you for choosing to streamline and expidit the purchase of your customized
Manna's Martial Arts Black Belt trimmed uniform.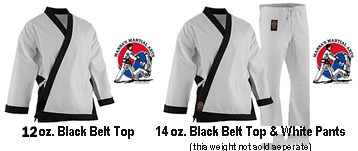 Uniforms are available in weights: 12 oz. and 14 oz. cotton
(14 oz. Pro Force all come with white elastic drawstring pants, Call for pricing)
Each uniform will have a full color silk screened Manna's Martial Arts logo on the back.
Ordering here online for 12 oz. only or 14 oz. order at Manna's school
Pay and order here online or at Manna's Front desk.
You are required to pay for the uniform prior to ordering.
All uniforms will be picked up at Manna's Martial Arts.
For additional information visit our front desk or email us at:
office@manna.us
THANK YOU!!