Manna's Martial Arts, Inc. Legacy Members Lifetime Training Membership is the highest level of long term committment.

An Elite List of Legcay Members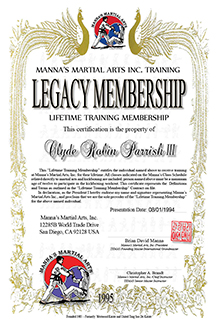 Clyde Robin Parrish III
Clyde Robin Parrish IV
Stuart Rosenberg
Christopher A. Brandt
Boaz Ritblatt
Neriyah Ritblatt
Alexander Szeto
Mabel Szeto
Colin Szeto
Gordon Glazer

Legacy Lifetime Training Membership entitles the individual named above to receive training at Manna's Martial Arts for their lifetime. Participation in many clinics and workshops included, discounts on others may apply. All classes indicated on the Manna's Class Schedule related directly to martial arts and kickboxing are included. As ownership of Manna's extends through the ages from hand to hand so shall your Legacy Membership.
If you have an interest in being a Legacy Lifetime Training Member of Manna's contact
Grandmaster Manna directly at manna@manna.us or call (858) 487-6470
The Szetos receiving their Legacy Memberships